Statistics and history are testimony to the fact that women have been bound in the shackles of society. Their mental and physical health has been neglected for the longest period. Most of the time, they lack the proper facility and means to reach out and analyze their health. Several problems affect women's health. There are many illnesses and diseases, both mentally and physically, that play a major factor in the deterioration of female health.
"Women in particular need to keep an eye on their physical and mental health, because if we're scurrying to and from appointments and errands, we don't have a lot of time to take care of ourselves. We need to do a better job of outting ourselves higher on our own 'to do' list. "

–Michelle Obama
The main purpose of crafting this blog is to generalize women's health more in the world and to make everyone, especially females, familiar with the means and options available for them to seek professional help. It is to make them more comfortable, careful, and confident about their health. The Health Capital seeks a better world for women, thus it is exclusively fabricated for females.
The Broad Categories of Women's Health
Female health can be categorized into three broad groups, interlinked together. The most important step to finding a solution to any issue that is going on is to identify the issue that resides. Only by being aware is one able to take the next step. The problem in each of these groups is equally important and must be given medical attention.
1. SEXUAL HEALTH:
A taboo topic, especially when it comes to women talking about their sexual life, is one of the biggest struggles that women find difficulty in. Many problems are affiliated with this aspect of women's health, which society tends to ignore. A content sexual life contributes significantly to the overall well-being of the body and soul Some of the most widely known issues include-:
A dissatisfied sexual life leads to severe mental health as well, like depression and anxiety.
Inability to perform intercourse, having no sexual desire, pelvic inflammatory diseases (PID), and negative experiences, to name a few.
Dyspareunia (painful intercourse) may be caused due to vaginismus (tightening of the muscles of the vagina).
Past negative experiences can lead to PTSD which can prove to be an adverse condition for women.
Stigmatized areas of an already neglected topic can make it extremely difficult for women. There are desires by both men and women. But society has put a barrier when it comes to reaching out for one's sexual life.
The Health Capital helps women overcome sexual problems with the right tips and homeopathic treatment for increasing sensual stimulation. To ensure privacy, we provide online consultation with the best sexologists from the comfort of your home. Want to better understand your sexual health? Take a free health analysis on our website.
2. MENTAL HEALTH:
Mental health is one of the most important aspects of our lives. A healthy mental state is important as it is the deciding factor for the way we think, feel, and resultantly act. Coming out and speaking for your mental health is not an easy thing to do in a society where psychiatric disorders or psychological issues are stereotyped with labels.
Positive thinking, meditation, and exercise go a long way when it comes to helping one in the course of recovery but they shall not be confused as a replacement for treatment.
Finding the right means and a comfortable space to freely talk about these problems is becoming difficult for women.
The gender disparities that have been existing for decades and centuries now are a cherry on top of females' misery.
Some cases, like psychiatric disorders, call for medical/professional help. A therapist, a psychologist, and a psychiatrist are needed to treat an adverse mental state.
Just like physical problems, mental problems can be treated with medicines and professional help too.
Above all, if awareness is spread and females come in contact with the means, these problems can slowly and steadily start eradicating.
Are you experiencing overwhelming emotional and psychological changes which you don't understand? Take our free mental health test today and book an online counselling session with our best-in-class psychologists. They will diagnose your mental health problems and help you overcome them with the right medication and advice.
3. REPRODUCTIVE HEALTH:
A woman is biologically made to give birth and continue the species. She goes through puberty, fertility, pregnancy, and menopause, accompanied by drastic and gradual physical and mental changes. Women's health from menarche to menopause needs to be taken care of, especially covering all the reproductive problems a woman suffers throughout her life.
Recent studies have shown that women come to go through menopause at the age of 35 unlike the usual age of 45-50, which leads to stress, anxiety, and depression.
Dysmenorrhoea – A condition of painful periods which call for painkillers.
Problems related to periods form one of the biggest issues in the country when it comes to women's reproductive health. For example, PCOD/PCOS is prevalent for so many women around the world.
Premenstrual syndromes (best treated by homeopathic treatment)
Amenorrhea: A problem that means no menses for months on end) without pregnancy
leucorrhoea
Vaginitis: vaginal inflammation resulting in discharge, itching, and pain.
Infertility: Another important problem that makes women go through mental stress and depression as well. Infertility makes women slip into a lack of confidence and anxiety which is not beneficial for their health.
A woman's body goes through several changes with age, which can give rise to certain reproductive problems. Our gynecologists are here to help you better understand these problems and cure them, through effective homeopathic treatment. For a free reproductive health analysis, visit our website.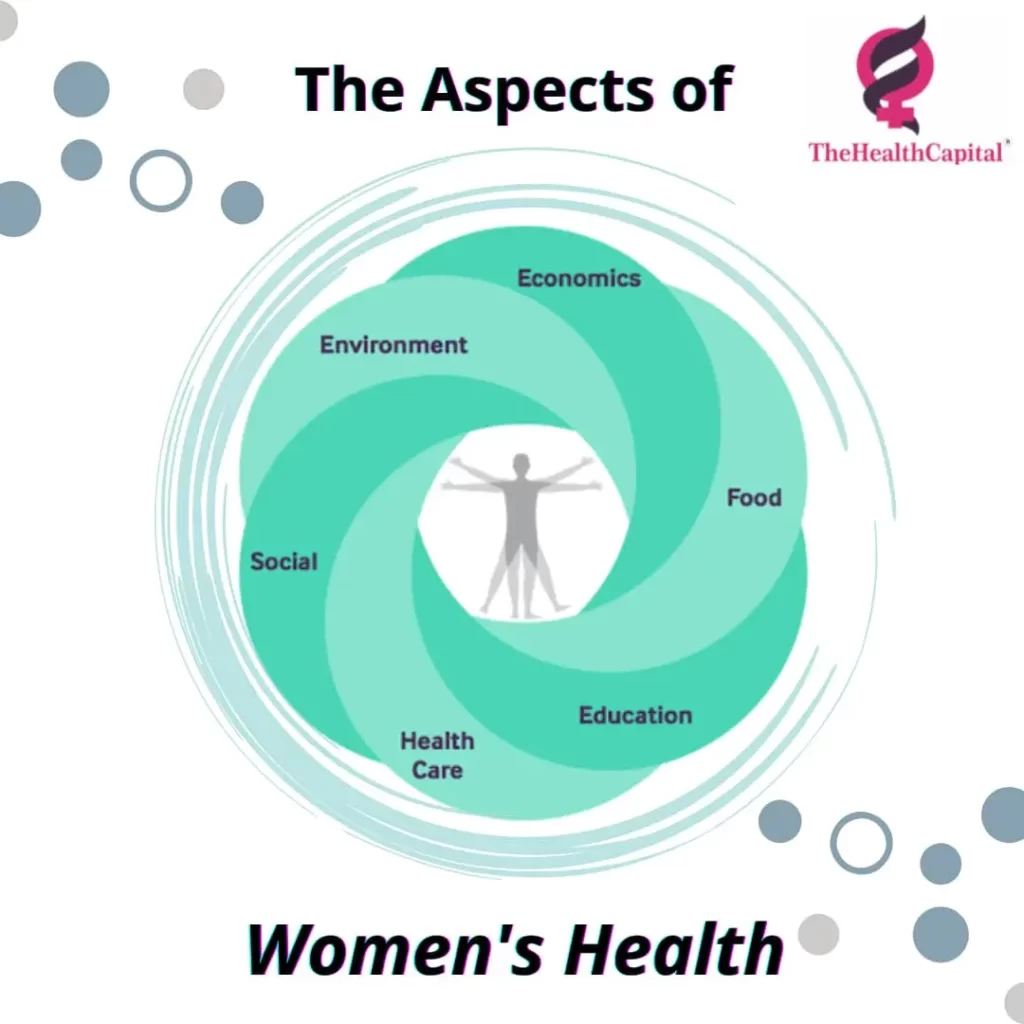 Women's Health- Barriers to Healthcare Facilities
Female health and people's approach towards it is misguided. There are barriers to female health from every direction and most of these barriers need to be addressed immediately. There are innumerable reasons that have restricted women to reach out for proper medical attention. The first stepping stone to the eradication of these problems is the identification of these issues. Therefore, some of the major ones are listed below.
1. Gender Disparities
A study done by researchers of All India Institute of Medical Sciences (AIIMS), the Indian Statistical Institute, the Prime Minister's Economic Advisory Council, and Harvard University showed that the percentage of women who got proper access to health was 37% as compared to the 67% of females. These statistics show nothing but an evident gap between males and females when it comes to healthcare. It forms the major reason why women are not able to approach or evaluate their health.
2. Financial Reasons
Poverty is one of the strongest reasons women cannot access the right healthcare. Unstable financial conditions and financial insecurity which may be caused due to unemployment or low wages have been a driving force why women haven't been able to reach healthcare facilities. This problem is heavily visible in rural areas, according to reliable sources and reports.
3. Lack of Awareness:
Many females are not familiar with the problems related to women's health. Whenever they experience a small symptom like pain in the knees, ankle or nausea, or even any emotional symptom like nightmares of a traumatic incident, prolonged sadness, or panic attacks, they assume that these are normal pains or minor issues that can be taken care of with ignorance or home remedies.
While that may be true, ignoring such things can lead to the accumulation of health issues. They may be symptoms of an underlying illness. Improper education – is a major reason for the lack of awareness among women. Even if they are educated about their health issues, many females are unaware of the facilities around them that help them.
4. Shortage of Doctors:
Many reports have shown that the number of doctors is not a good figure in India. This issue is more transparent in rural areas where there's one doctor in a village or one hospital with very few workers. The reason for this is mentioned in an article by DW (Deutsche Welle), stated by activist Kumari, "The attitude of the medical fraternity in the rural areas has been irresponsible. A large number of doctors are unwilling to work in remote villages as it is not financially lucrative."
5. Social Barriers:
Unfortunately, innumerable social barriers have been responsible for women not taking a step in reaching out for proper healthcare, whether it be family problems, society's pressure to be perfect, internal conflicts, or a generalized gender bias that runs throughout the system of society.
Healthcare facilities: Route to better women's health
It is imperative to understand that women's health is important in this world, and this doesn't mean denying healthcare facilities to other genders. It simply means bringing to the spotlight innumerable problems weathered by women daily when it comes to their fitness, whether it be on the mental front, reproductive front, or sexual front. It is to put forth the barriers that stand in front of them along with global problems like poverty, to take an example.
Proper health and nutrition should be improved for women, and therefore, it is our purpose to bring forth this idea that we wish to achieve by holding hands with our readers! The Health Capital provides a wonderful interface for these issues. It is exclusively made for women, to feel comfortable and safe. It provides a medically verified solution for women.
Stepping into a better zone…
The Health Capital is remotely available, convenient, and empathetic. Women can fill up forms, and choose the way they wish to communicate their problems, with just a single click. It provides a very easy and simple way to find solutions to problems. The Health Capital was formed to achieve the objective of giving women a complete health solution.
Above all, it is just for women. There is no breaching of information, confidentiality remains a priority and many women recognize their worth. The Health Capital's motive and aim are what makes it reliable and the way it approaches what it wishes to achieve is what makes it stand out.
"Women's health needs to be front and centre– it often isn't, but it needs to be."

Cynthia Nixon
Women's health (sexual, mental, or reproductive) has been ignored for a long time. It is time that all of us join hands for the betterment of society. The purpose this blog hopes to fulfil is better facilities for females around the world. Women and others must understand and analyze their health for a healthy body and mind is the route to happiness and peace in life.
FAQs
1. How often is a gynaecological exam important for women's health?

Women between the ages of 21 and 29 shall acquire a gynaecological exam every year and may wish to begin seeing a gynaecologist as soon as the age of 16 if they become sexually active more early on.

2. What women's health screenings are important?

Some screenings are recommended for women, specifically Breast Cancer Screening, Cervical Cancer Screening, and Osteoporosis Screening. These screenings must be done at a reasonable regular pace to keep a check on one's fitness.

3. Should women with prolonged minor symptoms reach out to healthcare facilities?

The prolonged minor symptoms are a sign of various illnesses, diseases, and deficiencies. These symptoms may be as small as ankle pain, arm muscle pain, uneasiness, or temporary breathing problems. They mustn't be ignored.

4. How can women who go through menopause deal with mental health issues?

A healthy routine, yearly check-ups, proper diet, meditation, and practices like tai chi, and yoga, can help women in menopause reduce their mood swings. Apart from this, seeing a therapist or counsellor can also help one in maintaining a peaceful mind.